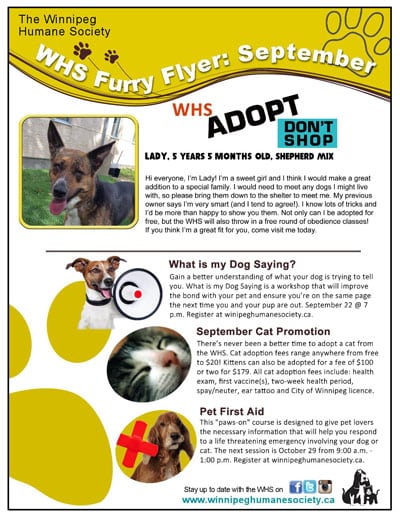 If you have a computer and printer of your own, we'll send you a monthly poster (a.k.a. a FurryFlyer) that you can print out and post at your workplace, school, gym, or local store.  Choose a location that you already regularly visit to keep things simple.  The cost to you isn't much more than a piece of paper every month and you'll be helping to spread the word on adoptable animals, pet-related events and WHS fundraisers.
Email communications@winnipeghumanesociety.ca and include:
Your full name
Your preferred email address
Put FURRY FLYER in the subject line
You'll start receiving a Furry Flyer at the beginning of each month.
Download the September 2016 Furry Flyer here!
— and get started right away!
Please be responsible about your posters. Always ask permission before you post anywhere and always remove outdated posters.