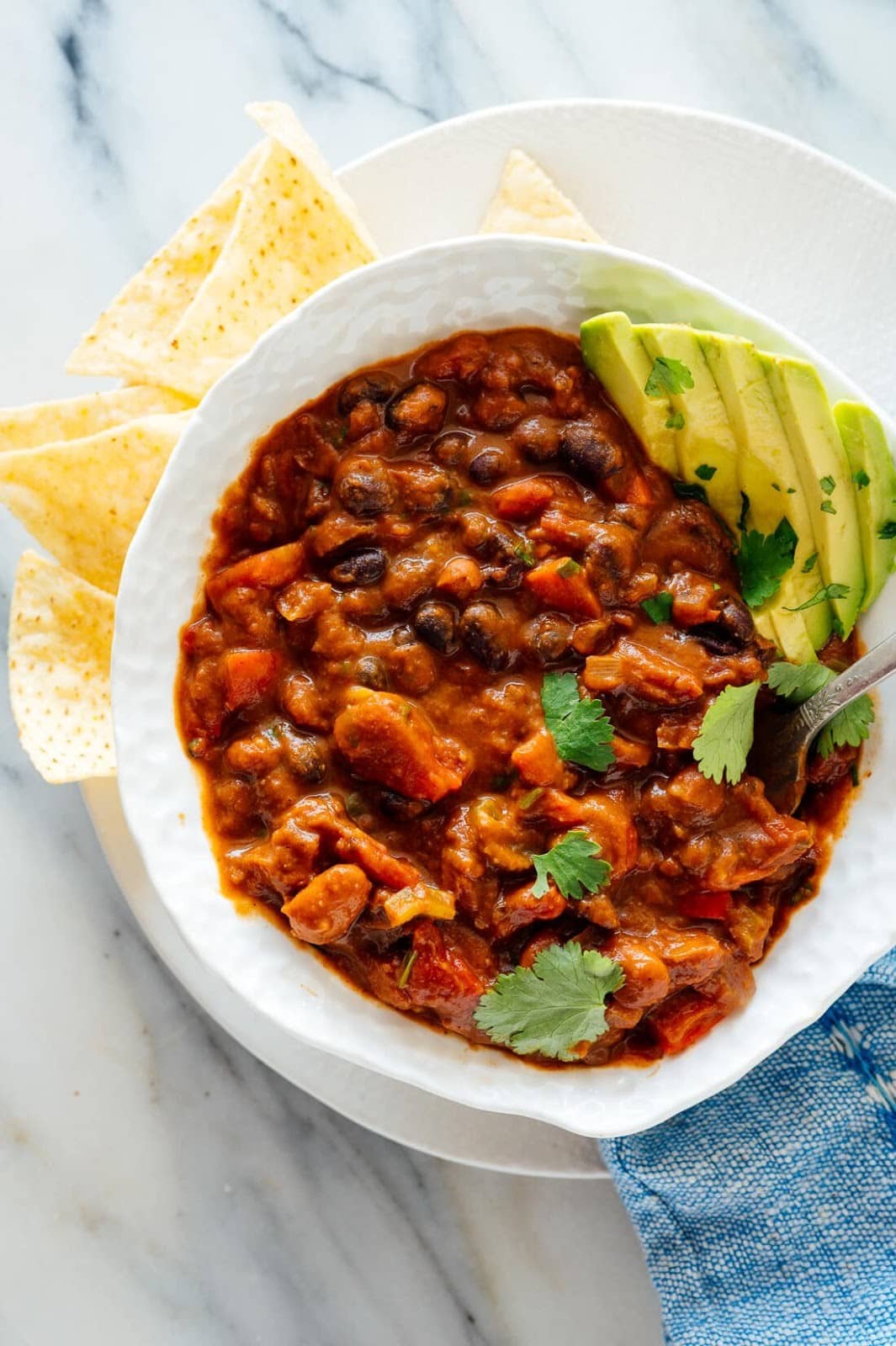 Meatless Mondays: Homemade Vegetarian Chili
Okay, the past couple of weeks have been beyond COLD for us Manitobans! What better way to warm up our hands and bellies than with an awesome bowl of chilli?!
When I was looking for recipes ideas for a potluck I attended recently, I knew I wanted to make something warm and comforting. That is when I came upon this delicious Homemade Vegetarian Chili recipe by blogger Cookies and Kate.
This chili is full of fibre-rich beans, which are being widely promoted on the revised Canadian food guide. The new Canada's Food Guide was released Tuesday, January 22nd, and for those who have missed it so far, I will give you a little update. This food guide encourages Canadians to emphasize vegetables, fruits, whole grains, and to choose plant-based proteins more often. Plant-based proteins include beans, lentils, nuts, seeds, and soy foods such as tofu.
You can read more on the new Canada's Food Guide here.
The new food guide also encourages us to cook more of our meals at home, to eat mindfully, and to enjoy meals with others. So, whether you are doing some batch cooking for the week, cooking for your family or getting ready for a potluck, give this Homemade Vegetarian Chili a try!
Homemade Vegetarian Chili
Author: Cookie and Kate
Prep Time: 20 mins
Cook Time: 40 mins
Total Time: 1 hour
Yield: 4 to 6 servings
The smoky, complex flavor of this simple vegetarian chili comes from basic pantry ingredients, vegetables and spices! It makes great leftovers, too. Recipe yields 4 large or 6 moderate servings of chili.
Ingredients:
2 tablespoons extra-virgin olive oil
1 medium red onion, chopped
1 large red bell pepper, chopped
2 medium carrots, chopped
2 ribs celery, chopped
½ teaspoon salt, divided
4 cloves garlic, pressed or minced
2 tablespoons chili powder*
2 teaspoons ground cumin
1 ½ teaspoons smoked paprika*
1 teaspoon dried oregano
1 large can (28 ounces) or 2 small cans (15 ounces each) diced tomatoes**, with their juices
2 cans (15 ounces each) black beans, rinsed and drained
1 can (15 ounces) pinto beans, rinsed and drained
2 cups vegetable broth or water
1 bay leaf
2 tablespoons chopped fresh cilantro, plus more for garnishing
1 to 2 teaspoons sherry vinegar or red wine vinegar or lime juice, to taste
Garnishes: chopped cilantro, sliced avocado, tortilla chips, sour cream or crème fraîche, grated cheddar cheese, etc.
Instructions:
In a large Dutch oven or heavy-bottomed pot over medium heat, warm the olive oil until shimmering. Add the chopped onion, bell pepper, carrot, celery and ¼ teaspoon of the salt. Stir to combine and cook, stirring occasionally, until the vegetables are tender and the onion is translucent, about 7 to 10 minutes.
Add the garlic, chili powder, cumin, smoked paprika and oregano. Cook until fragrant while stirring constantly, about 1 minute.
Add the diced tomatoes and their juices, the drained black beans and pinto beans, vegetable broth and bay leaf. Stir to combine and let the mixture come to a simmer. Continue cooking, stirring occasionally and reducing heat as necessary to maintain a gentle simmer, for 30 minutes. Remove the chili from the heat.
For the best texture and flavor, transfer 1 ½ cups of the chili to a blender, making sure to get some of the liquid portion. Securely fasten the lid and blend until smooth (watch out for hot steam), then pour the blended mixture back into the pot. (Or, you can blend the chili briefly with an immersion blender, or mash the chili with a potato masher until it reaches a thicker, more chili-like consistency.)
Add the chopped cilantro, stir to blend, and then mix in the vinegar, to taste. Add salt to taste, too—I added ¼ teaspoon more at this point. Divide the mixture into individual bowls and serve with garnishes of your choice. This chili will keep well in the refrigerator for about 4 days or you can freeze it for longer-term storage.
Original recipe and photo from: https://cookieandkate.com/2019/vegetarian-chili-recipe/
---
Blog and photo by Angela Tucker. Angela Tucker is a plant-based Registered Dietitian from rural Manitoba. Angela first became vegan for compassionate reasons and soon realized other ways a vegan lifestyle and a plant-based diet positively impact the planet and our health. Since then she has become passionate about health, wellness and sustainability. Angela sees clients virtually for nutrition counselling sessions through Skype and FaceTime. If you are interested in working with her or if you want to learn more about her philosophy on food, visit her website PrairieSprout. You can also find her on Facebook and Instagram.