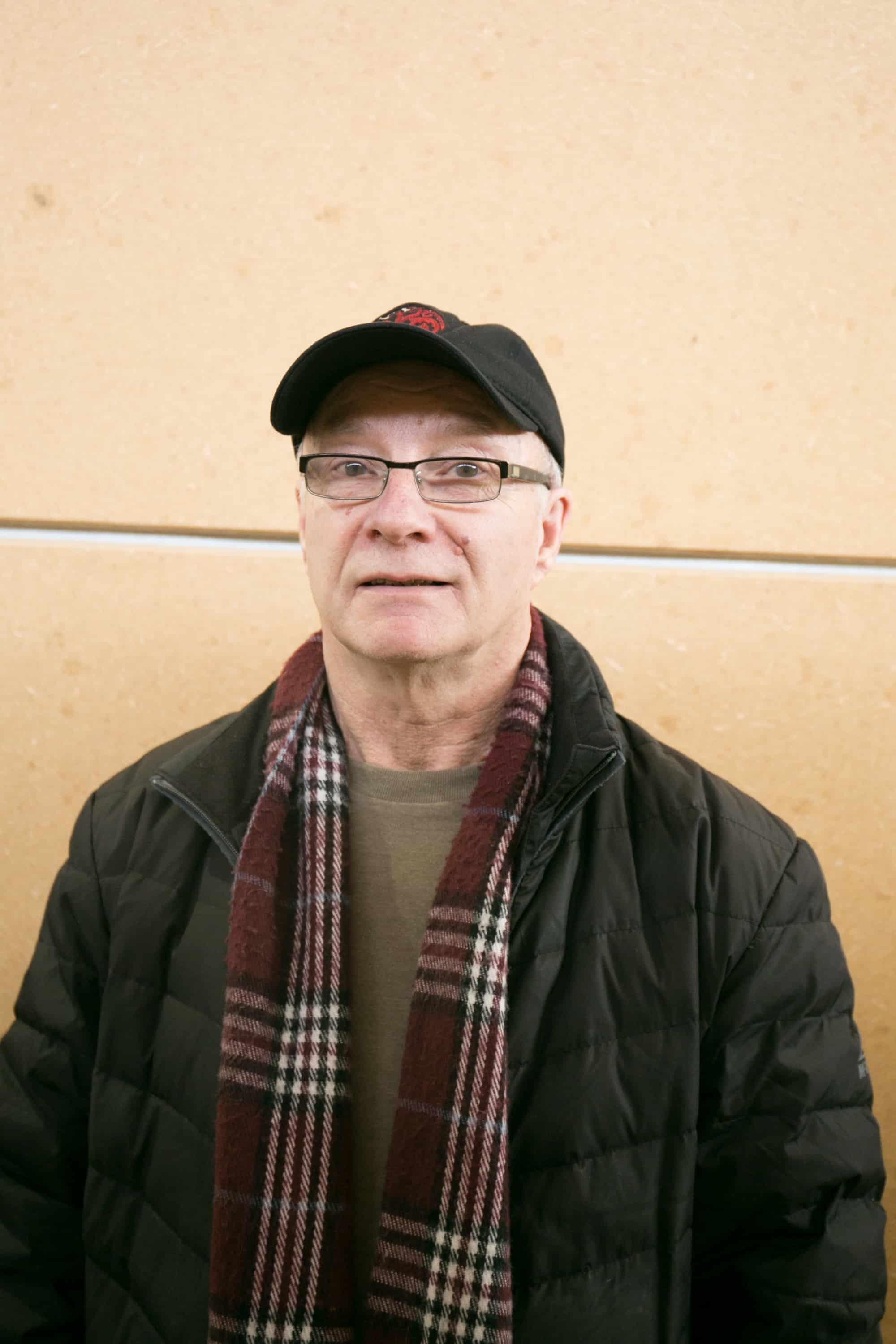 January MVP: Don Bowles
A retired social worker, Don Bowles' background has made him a perfect fit for volunteering in pet loss and grief counseling at the Winnipeg Humane Society (WHS).
"I do a number of roles here but it's mainly the pet loss grief and Dog Enrichment work," he explained. "In my three years here I've also assisted in obedience training and Cans for Critters, among other things."
Giving back through volunteering is very important to Don in his retirement years. In addition to the WHS, he has several other volunteer positions – both in Winnipeg and at the lake, where he goes most weekends all year long. Last summer he volunteered for three different rural municipal elections. "I get a lot of enjoyment out of those volunteer positions," he said.
Don's been doing the pet loss and grief counseling at the WHS for just over a year. There are four counselors (who receive training from KLINIC) who talk to callers for one week, then are off for three weeks. Most weeks, the line gets about three calls. Some weeks there are none. But recently Don handled 10 calls in a week.
"The WHS has a pet loss number," Don explained. "People leave their name and number and we get back to them. We call in three times a day and call the person back. Some people will call right after their pet has passed away, but Don said "After a day or two people have a better idea of how they're feeling and are in a better position to talk."
It may take one, two or even three calls with a person to make sure they're ok and they have a plan of what they'll do, and that plan may include deciding what they will do with their pet's ashes. "We're not going to fix this, that's not what we're really about," he said.
There's no way of stereotyping callers to the line, Don said. It could be a husband, wife or child calling in, who's having a tough time dealing with the loss of a pet. "In the end, you're looking at their story with their animal," he said. "You try to look at them, and see if they've got supports and how's it affecting them. Can they go to work? Because I get people who can't – they're not eating or sleeping.
"We're primarily there to listen. We don't like to make recommendations but in cases where someone is not eating or sleeping we might ask if they have a doctor who may have some medication or other ideas to help them. But mostly it's listening to what they're telling you."
The pet loss support line is unique to the WHS in Canada, Don said. But late last year, he got a call on the line from a distraught young fellow. He looked at the phone number and learned that the young man was calling from Grande Prairie, AB. More research showed that the local SPCA had been closed in Grande Prairie, so he had no local supports. Don took the information, called the fellow and explained that while the service is limited to Manitoba, he would help him.
"One of the things I do try to share at the end of my talks is that most of us have gone through grief in our life," he said. "But remember that ultimately it's all memories and no one can touch those memories because they're all yours. The pain will lessen over time. We all have to try and move on in our own way."
Don loves the Dog Enrichment volunteer work, one evening a week. He says it ensures dogs get outside for fresh air and a bit of exercise, get to relieve themselves outside and get used to people in order to get them ready for fostering and, eventually, adoption. "A big part of it is our relating with the dogs, and maybe playing," he said. "And we check them out to see what they know. I'm amazed at how many of them know how to sit on command or how to shake a paw."
Gaining the trust of these dogs and getting them used to people is important, Don pointed out.  "Some of these dogs are quite traumatized. They've come from wherever. And now they're here and they don't know what's going to happen next. It's very scary for them. "
Each week, before his shift starts, Don asks the staff whenever I come if there are things I should be looking at whenever I'm working with each of the dogs. The responses are taken into account for the duration of the shift and always prove helpful, Don said. For example, when it was so cold he asked one of the staff who suggested Don take the dogs out for a walk one at a time rather than six or seven together, like usual. He said they're only going to be out there 5 or 10 minutes in this cold. This way dog enrichment volunteers get to spend more time on leash with individual dogs.
"I'm a chatty person, so I have lengthy conversations with these dogs about anything," Don laughed. "For example, I'll say "You don't want to go outside? It's cold. I feel the same way. But if you don't go outside you're going to pee or poop on the floor and somebody else is going to come and clean it up. This way you'll get some fresh air and spend some time with me and maybe you'll meet another dog and make a friend."
Don enjoys a good relationship with the other volunteers and WHS staff. "We've worked at it,'" he explained. I was a social worker for 37 years and you had to learn to work with and understand people. And you had to believe in teamwork. That's the way it is here – it's all about building the relationships.
"I have a great deal of respect for the Behavior people. They have a very important job. They're very respectful of the dogs' needs. And I've worked with most of them, which is nice for me. And Kelle Greene and Johanne Pitura have been so helpful and respectful with us volunteers."
Written by: Brian Kozak, Volunteer MVP Writer
Photo by: Jim Harvey, Volunteer MVP Photographer
---
A group of volunteers founded the Winnipeg Humane Society in 1894 and are vital to our success today! With the help of volunteers, we can provide care, love and attention to our four (and sometimes two) legged friends until they find their forever homes. The MVP (Monthly Volunteer Profile) will recognize the work and get to know these special MVP's in a spotlight each month that includes an article and photo shoot. MVPs will receive a framed photo and gift card as our thanks!
Is there a volunteer you'd like to nominate to be MVP? E-mail us (volunteer@winnipeghumanesociety.ca) and tell us why you think they should be an MVP!